Scheduling your appointment is easy! Our West Michigan office is open Monday through Friday, 7:00am – 5:00pm and our staff is eager to help. Call or leave us an email and explain in detail what services you'd like us to provide, or any issues you're having with your vehicle. When emailing, we'll be sure to get back to you as quickly as possible.
Schedule your appointment today:
7:00am - 5:00pm, Monday - Friday
3643 80th Ave Zeeland, MI 49464
Truck Repair & Maintenance
V-Max Trucks is a reliable and professional truck & trailer repair center near Holland, Michigan. We have 7 certified and skilled mechanics on our staff, all of whom are fully qualified to handle any service you may need. Our mechanics are capable of working on Class 8 heavy-duty, medium-duty, and other types of trucks, as well as motorhomes, and RVs.
We offer general maintenance as well as repair in the following areas: installing/replacing parts, PM's, transmission work, clutches, brakes, suspension and more. See a list of our most common maintenance and repair services below:
Brake Service
Don't allow your brakes to erode from poor maintenance. A common question we get is, "How often do brakes last?" Brakes should generally be serviced anywhere from 20,000 to 50,000 miles, yet the speed at which brakes wear is also dependent upon the driver, so you may want to have them serviced at an earlier time. A regular brake system checkup can save your vehicle's general condition, as well as ensure your safety. Accidents are entirely possible if your brakes fail, so be sure to take heed and have your brake fluid replaced at least once a year, as well as have them inspected. We provide brake pad repair in West Michigan.
Suspension Parts
A truck's suspension is made up of a group of components that connect a truck to its wheels, resulting in relative motion, or the motion of one body with respect to another. A suspension system affects both truck handling and ride quality. Truck suspension parts include tires, as well as their air pressure, springs, shock absorbers, and linkages. The best form of defense against a failing suspension system is visual inspection, which our mechanics are happy to provide.
Truck Belts
Trucks consist of two belts: serpentine and timing. The serpentine belt is a rubber belt that provides power to parts like the alternator, power steering pimp, and air conditioning compressor. The timing belt syncs an engine's crankshaft and camshaft, so that the engine continues to run. Belts and hoses withstand a lot of pressure and wear out easily. Serpentine and timing belts should be replaced between every 60,000 to 100,000 miles.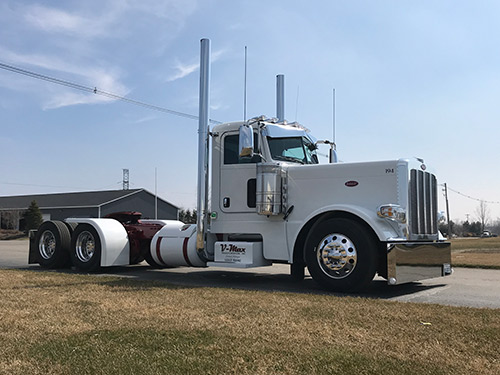 Batteries
Electrical systems are an integral part of any modern vehicle. Truck batteries last around 3 to 5 years, yet human error, extreme temperature, or other defects can drain a battery. If your engine doesn't start as quickly as you're used to, you're encountering electrical issues, or you find your battery has corroded, it may be time for a replacement.
V-Max Parts Manager
Your wants are important to us. Another key component of V-Max Truck's services is our on-site Parts Manager. Our parts manager can meet with you to discuss any upgrades or additional aftermarket parts you're interested in. We have a direct relationship with companies like Lincoln Chrome, PDI, Hogebuilt and more, so you'll be sure to receive the best pricing possible. We are truck maintenance and repair experts. Trucking is our passion and it shows through our work.
Wheels/Tires
Tires typically last anywhere from four to five years depending on manufacturer quality, different brands have different life-spans, the types of roads that are being driven on, which can affect treads, as well as age. Another important aspect of your vehicle's wheels is tire pressure. PSI for trucks should be between 105 to 110 psi. If the truck feels uneven while driving, you may need a truck tire alignment. V-Max trucks can provide tire alignment near Holland, MI.
Truck Accessories
Tailor your truck to your personality and make the road away from home feel like home. If you're in need of truck accessories in West Michigan, or nationally thanks to our online shop, V-Max Truck Sales is an official distributor of many brand-name accessories, such as fenders, visors, train horns, and more. Looking to sit back and relax from your journey? V-Max offers parts installation services, so that you can take a moment to yourself knowing your truck is in trusted hands.
V-Max Truck Sales, LLC is an official service provider for the ALUMACLEAR® system, which is proven to protect expensive polished and mill finished aluminum equipment. This process also ensures that your vehicle maintains that "fresh-from-the-factory" shine!
ALUMACLEAR® is scientifically formulated to create a permanent bond with aluminum surfaces, such as trailers, fuel tanks, and rims.
ALUMACLEAR® remains flexible and expandable so it will not flake or peel off, maintaining your vehicle's visual appeal.
ALUMACLEAR® keeps equipment resistant to water spots, acid rain and corrosion from the elements
ALUMACLEAR® has been tested against magnesium chloride and salt spray
When taken care of properly, ALUMACLEAR® applied to aluminum trailers typically lasts between 3-5 years. It can be applied to the following surfaces: petroleum & bulk tankers, dumps, gravel trains, livestock trailers, pump tanks, wheels, fenders & more!